Excellence in Business Awards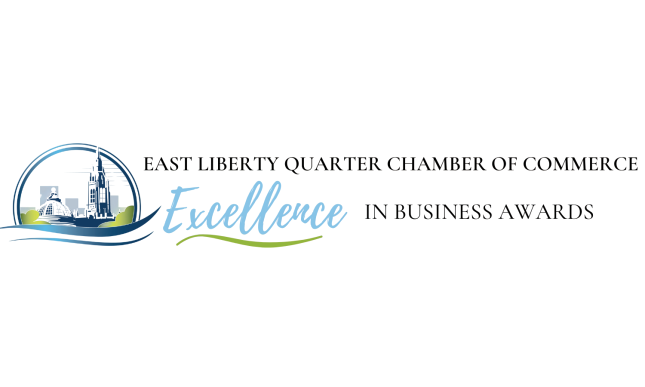 Event Details
Location: Wallace's Whiskey Room & Kitchen at Hotel Indigo OR Virtual attendance
Address: 123 N Highland Ave, Pittsburgh, PA 15206
Time: 6PM
Date: December 4th, 2020
Text DONATE(Amount here) to 740.200.4554 to support the East Liberty Chamber of Commerce!
TICKETS ON SALE NOW! Click here to purchase yours!
Please join us for East Liberty's very first Excellence in Business Awards Banquet at Hotel Indigo's Wallace's Whiskey Room & Kitchen on December 4th recognizing the excellence in our local businesses and their leadership. This is an upscale hybrid event and will include a dinner, special guest, auction, entertainment, and an awards ceremony for our in-person and virtual attendees.
In-person tickets will be limited to adhere to CDC Guidelines and to best maintain social distancing. We will be releasing more information on how we will be taking extra precautions to keep our attendees, staff, and the community safe.
If you would like to attend the event but do not feel comfortable attending in-person, we will be offering virtual tickets! The virtual event should not be thought of as a substitute. We will be offering wonderful benefits to make an engaging experience from the comfort of your home.
We are so excited to recognize our local businesses for all of their hard work and dedication to the community and their industries. We hope you will join us for this excellent awards ceremony!
The in person dinner menu is below.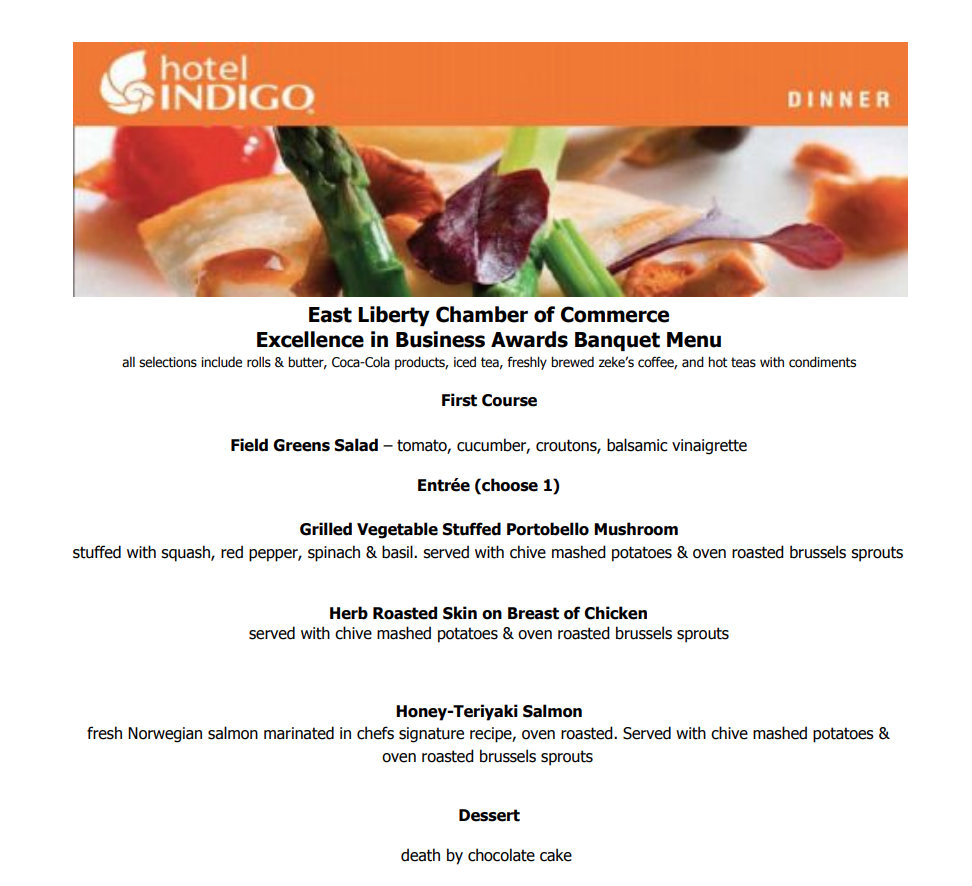 If you would like to be involved in event sponsorship, please contact one of our event chairs.
1. Pamela Wolff, ms.pwolff@gmail.com
2. Matthew Wolff, mvwolff@comcast.net
2020 Award Recipients
1. Allegheny Conference Innovation Award: Shift Collaborative
2. Center for Women Entrepreneurship at Chatham University Enterprising Woman of the Year: Janera Soloman
3. Dollar Bank Minority Owned Business of the Year: Davis Consulting Solutions
4. Duolingo Large Business Leader of the Year: Walnut Capital
5. Duquesne University SBDC Small Business Leader of the Year: StudioME
6. Giant Eagle Chamber Member of the Year: Don's Appliances
7. Holbein Inc. Technology Advancement Award: Duolingo
8. Hotel Indigo Service Excellence: Small Business: Studio Booth
9. LG Realty Inspiration Award: East End Cooperative Ministry
10. Urban Redevelopment Authority Young Business Professional of the Year: Kin of Duncan, Jasmiere Bates (owner)
11.. Walnut Capital Service Excellence: Large Business Award: Highland Park Care Center
To purchase a congratulatory ad for the event program, please see below. If you have additional questions, please email Cynthia Oliver at coliver@eastlibertychamber.org.
If you have any questions regarding the event, please email Alex Lazarchik at alazarchik@eastlibertychamber.org.