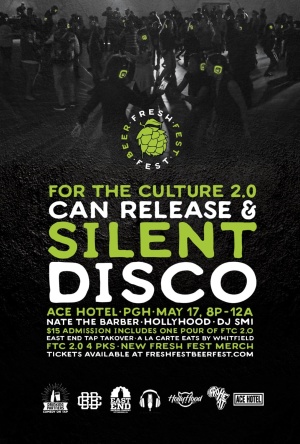 FRESH FEST SILENT DISCO - "FOR THE CULTURE 2.0" CAN RELEASE
8:00 PM Friday May 17, 2019 through 12:00 AM - Saturday May 18, 2019
$15 Advance Tickets at The Gym
Fresh Fest x Black Brew Culture x East End Brewing presents For The Culture 2.0 - Imperial Brut IPA Can Release and Silent Disco.
DJ Nate Da Barber | Hip Hop
HollyHood | Dancehall
AFROHEAT (DJ Smi) | Funk
One Free Pour of "FTC 2.0" | Available 4 Packs | East End End Tap Takeover | a la carte bites by Whitfield | Discounted Fresh Fest Tickets | Fresh Fest Merch
This year's collab with our GOOD FRIEND's, East End Brewing, is a variation on last year's For the Culture Brut IPA. In keeping with the same style, where champagne type similarities are sought in both mouthfeel and character, we brewed this year's batch with slight increases in both hop character and ABV. The ABV year over year moved from 7.9% to 9.1%, using a bit more Pilsner base malt and amylase enzyme after our Dry Hopping rest. Similarly, we upped the hopping overall from 3.5 pounds per barrel to a ridiculous 5.1 pounds per barrel, using the same three varieties, Nelson Sauvin, Hallertau Blanc, and Idaho 7. Just like Fresh Fest 2019, this year's collab with EEB is slightly bigger and much #FRESHER than last year!
A silent disco is an event where people dance to music listened to on wireless headphones. Rather than using a speaker system, music is broadcast via a radio transmitter with the signal being picked up by wireless headphone receivers worn by the participants. Those without the headphones hear no music, giving the effect of a room full of people dancing to nothing.