Jobs

Our Chamber members are hiring! Check out the following businesses looking for full time, part time, and seasonal help. Have a position open at your business? Fill out the form below.
Job Board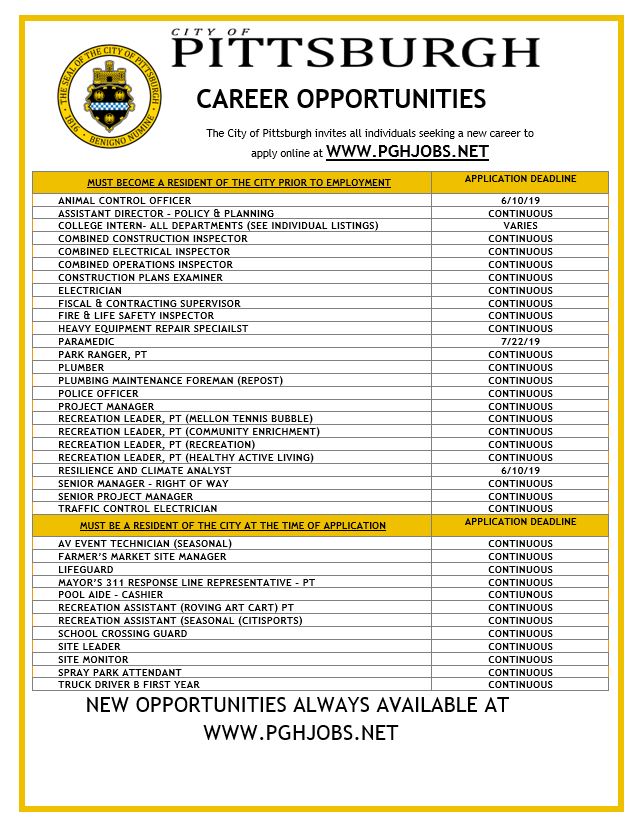 ---
Partner4Work
Position: Apprenticeship Manager
Location: Partner4Work, 650 Smithfield Street, Pittsburgh, PA 15222 Reports To: Director of Strategic Innovations
Salary: $55k-$65k
FLSA Status: Exempt
Summary
The Apprenticeship Manager is responsible for coordinating strategies, partnerships and programs that expand and strengthen opportunities for apprenticeship and pre-apprenticeship in both traditional and non-traditional industries and occupations throughout the Greater Pittsburgh region. The Apprenticeship Manager will oversee a portfolio of local apprenticeship and pre-apprenticeship programs, coordinating programmatic activities with individual employers and partners. The Apprenticeship Manager will also assist the Director of Strategic Initiatives and senior leadership team in designing and realizing broader strategic goals, such as incubating pilot programs and strengthening connections between pre-apprenticeships, registered apprenticeships, and institutes of higher education.
---
Business Development Manager for Scene75
Scene75 Entertainment brands the largest indoor entertainment centers in the United States. Attractions include indoor go-karts, laser tag, blacklight miniature golf, virtual reality, bumper cars, 4-D theaters, inflatables, restaurants, full-service bars, and more. Through its core values of putting people first, sharing fun, creating lasting memories, and pursuing excellence, Scene75 was named the top family entertainment center in North America by the International Association of Amusement Parks and Attractions. Scene75 presently features locations in Dayton, Cincinnati, Cleveland, Pittsburgh and Columbus.
Reports to the General Manager: The Business Development Manager is responsible for managing and growing the sales department, including both its financial metrics and sales/party execution team, by performing the following duties, either personally or by delegating. We sell FUN!
Qualifications: To perform this job successfully, an individual must be able to perform each essential duty. The requirements listed below are representative of the knowledge, skill, and/or ability required...
READ MORE requirements and directions for this position here.
---
Financial Coaching with City / Neighborhood Allies / Advantage Credit Counseling
As part of our partnership with Neighborhood Allies the City is working to get 4 new financial coaches on the ground embedded within existing non-profit service providers in town. The coaches will be employees of Advantage, and coaches will all work through a centralized scheduling system so that folks who want coaching can call one number and make an appointment at the site and time that works best for them.
We're currently soliciting applications for financial coaches and a supervisor. Any help you can provide in disseminating this info would be greatly appreciated.
Job posting for coaches;
---
State Farm Agent Team Member
Are you outgoing and customer-focused? Do you enjoy working with the public? If you answered yes to these questions, working for a State Farm independent contractor agent may be the career for you! State Farm agents are entrepreneurs that market only State Farm insurance and financial service products.
This position is with a State Farm independent contractor agent, not with State Farm Insurance Companies. Employees of State Farm agents must be able to successfully complete any applicable licensing requirements and training programs.
Desired qualities include:
•
Must have applicable license or must obtain applicable licensing requirements
•
Excellent communication skills – written, verbal and listening
Compensation includes salary plus commissions.
Click the buttons below for more opportunities:
"Help Wanted!" Submission Form
Submit a position your company is looking to fill below and we will post the Job Board above.
*
required