#FeatureFriday - Scene 75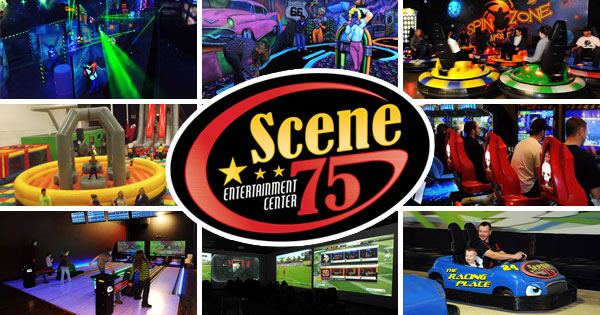 This weeks #FeatureFriday is Scene 75 Entertainment Center! I met with Mike Cecchini, the Business Development Manager for the Pittsburgh location. After we talked about Scene 75, Mike took me on a tour. I finished off my visit on the XD Dark Ride with Mike and 2 other Scene 75 employees!
Scene 75 is the largest entertainment center in the U.S. and is fun for all ages. They offer an arcade with more than 120 games! They have a multi-level arena for laser tag and up to 42 players can compete at a time! Additionally, there are go-karts, mini-bowling, spin zone bumper cars, 3D blacklight mini-golf, virtual reality, and a laser maze! I got to try out the XD Dark Ride which is an 8 seat theater equipped with full motion seats and a 3D interactive shooting gallery. We played a zombie theme and I could not believe how interactive it was! For example, when our car fell off the road and into the woods, our seats bounced us all around and really immersed me into the game. Scene 75 also has an area for kids 12 and under. The bouncing area is full of slides, bouncers, obstacle courses, and a play area for toddlers. Lastly, they offer a food truck alley, center bar, private party rooms, and a prize gallery! If that's not enough, you can also book an event here. Scene 75 hosts birthdays, corporate team-building, holiday parties, Bar/Bat Mitzvahs, bachelor/bachelorette parties, and more!
The Scene 75 Pittsburgh location just opened a little over a year ago. Scene 75 began in 2012 as a father and sons vision and now there are 5 locations in America! Mike says the owners are heavily involved and passionate about their message. He had the opportunity to meet them when he traveled to the Columbus, OH location. Mike said they were very open to feedback and he feels the core values of the business are put into training new employees and into day to day operation.
Scene 75 is only a 10 minute drive from downtown Pittsburgh. Mike says that businesses who book their events at Scene 75 always have a blast. Additionally, they are starting to have more schools come. They are hosting 2 after prom events and offer a field trip packages, fundraising options and a summer program called School's Out, Scenes In! They also have a Bat Mitzvah scheduled in March. Over the holiday season, local union 154 actually bought out the entire facility!
Mike started working for Scene 75 in August 2019. He is originally from Michigan but moved back to Pittsburgh with his wife. Previously, Mike worked in Sport and Entertainment selling Group Tickets and with the AHL Hockey Team the Hartford Wolf Pack as Director of Ticket Sales. He says he loves his job because he gets to sell fun! Mike decided to come to Scene 75 because he connects with their core values and had more freedom to get out in the market. He wanted to continue to stay in a role that he sells fun and experiences. Scene 75 is also a fairly new company which provides lots of opportunity for growth.
Mike's long term goals for the company are to bring the Pittsburgh location to the forefront and make them a competitor in the market. Mike would also like to move up in the company and eventually oversee the sales team and different departments as the company grows.
Mike says he is eager to attend more chamber events and become a part of the community. He is excited to network with more people and talk to them about Scene 75!
If you're ready to book an event or have other questions, call Scene 75 today at 412-336-2330 or visit their website for more information!